Diamond color is an important part of the diamond 4Cs. According to diamond grading experts, diamond color actually means absence of any color and it also signifies its purity, rarity & value.A laboratory grown diamond with no hue, or color is very hard to source (just like naturally mined diamonds) and hence can be costlier than lower color grade diamonds. The more color a diamond has, the more it has been affected by chemical impurities and/or structural defects in the crystal lattice. The more opaque a diamond is, the better sheen and luster it provides, once matched with a cut that enhances its quality and brilliance.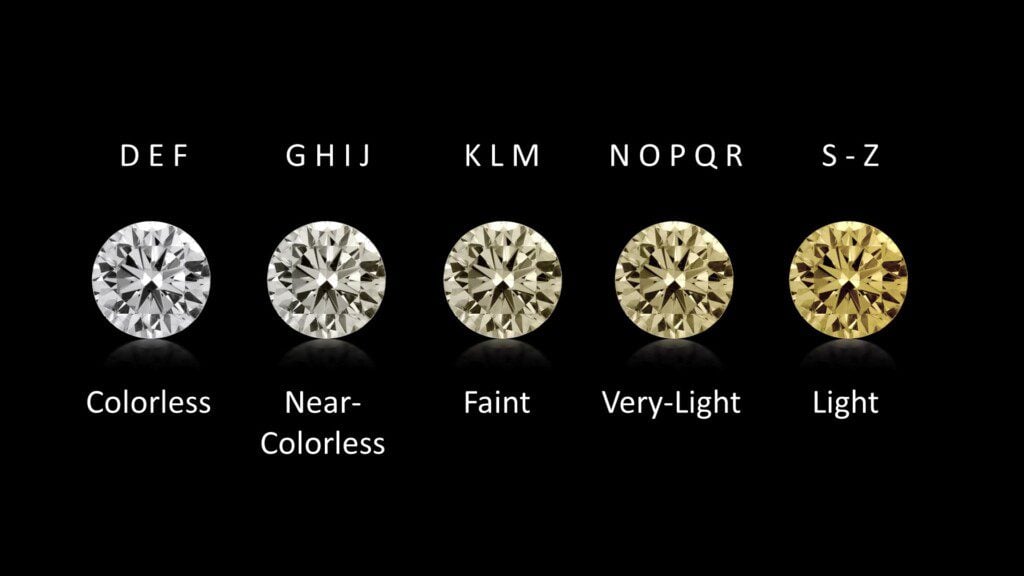 According to the color grade scale given by GIA or the Gemological Institute of America, color grading of diamonds is graded in the range D to Z, with D being near colorless to Z being visibly brown colored diamonds. Even within the same color range, diamonds can differ slightly. As diamonds become larger their color becomes more noticeable. When light falls on to the diamond's facets, it bounces to a range of hues which is called 'fire' of the diamond.  And when there's noticeable color in a diamond, that hampers its ability to reflect light, which is why lower color grades exhibit lesser transparency and scintillation compared to diamonds with no discernible color at all. When choosing the perfect diamond for an engagement ring, it is important to consider color as a point of differentiation
D Color Diamonds
As per leading gem grading labs, if you are looking for the shiniest diamond out there, then look out for the D Color graded diamonds, that is considered as the highest color scale in a diamond guaranteeing you of a diamond with no body of color.
The Gemological Institute of America (GIA) attributed the 'D' color grade to a diamond with no hue. Diamond colors in the D-E-F color grades can go unnoticed by an untrained eye but some would still pay the premium for a Dcolor diamond because they appreciate top color grades more than average buyers. In addition, they are able to detect small shades of color better than most, and are therefore able to appreciate the beauty and rarity of top color. There is a distinctive emotional and psychological appeal of owning the very best.
It is a popular perception that colorless diamonds will always be brighter and more fiery than lower colors. And while scientifically that's a fair thought, other factors, particularly diamond's cut quality, will play a much bigger role in determining its brilliance, fire and scintillation (diamond sparkle) than color alone. Choose a metal like platinum or white gold to perfectly complement and reflect the sheen off the diamond.
Some of the most famous D or colorless diamonds include the Koh-i-noor and Star of the South Africa diamond. A recent sale of a D color graded diamond weighing 50 carats broke a previous record at the auction house, Christie's. The prior record for the most expensive colorless diamond to sell at the auction was an unmounted oval-cut diamond which was sold in 2013 for $30.6 million in Hong Kong.


E Diamonds
E color diamonds are only one step away from the D color grade, which means they are almost perfectly colorless! It has the second level of whiteness on the standard grading scale and will appear bright white without a hint of color to the untrained eye. In fact, most cannot differentiate between a D and an E color diamond. The difference is so small that you would need to be in a diamond laboratory with a highly skilled diamond expert to see the difference and that's why always make sure you get an independent laboratory graded diamond. 
According to GIA, the D, E, and F grade diamonds are all considered premium, pure and "colorless" while G, H, I, and J grade diamonds are defined as "near colorless." So you still will be in the 'premier league' with your E color diamond! It is advisable to opt for a white gold or platinum setting to accentuate the beauty of an E color diamond. A setting in yellow or rose gold may reflect the color defects in it. When dealing with step cuts, such as the Emerald cut and the Asscher cut, the E color grade is a great choice. They have large tables that draw the eye to any tint of color or any imperfections so don't compromise on the cut quality and clarity when you choose a higher color grade like D-E or F.
F Color Diamond
Sitting two grades below perfection, the F colored diamond completes the 'colorless' benchmark in diamonds. And that's why they can be up to 20% cheaper in price than a D color diamond. These diamonds will appear colorless unless they are viewed as loose diamonds alongside a D or E color diamond and the difference is less pronounced when viewed as diamonds set within jewelry.
While evaluating lab grown diamonds, diamond graders use the same 4Cs as benchmarks as they do for mined ones. An F color diamond's color will get more pronounced in certain cuts, like the cushion-cut that highlights the color of a diamond. So, if you want to underplay the cost of a diamond in the colorless category, choose your diamond shape carefully. Jewelry designers suggest the radiant cut is an excellent choice for F color diamonds with no compromises to the fire and brilliance of a premium lab grown diamond. This is because there is minimal visible difference between the D, E and F color graded diamonds. 
An F color diamond ring would look stunning in any white or colored metal setting, as its flaws are not visible to an untrained eye.
G Color Diamonds
Most diamonds have natural coloration due to chemical impurities found in them at the time of birth. Lab grown diamonds that are grown in lab conditions will also show the same characteristics in the G to J color grades of diamonds. This category is considered the near colorless category of diamonds. Within the category of G-J colored diamonds, it may be difficult for the untrained to really differentiate between one color and another. The G color diamond gets this grading on the basis of the amount of yellow tint present in it. The G colored diamond in its category is not completely devoid of color, unlike the D color category of diamonds.
According to gemologists worldwide, if given the right kind of cut, a G color diamond can actually appear to be much whiter and look better than a poorly cut higher color grade diamond. Diamonds are typically graded upside down, as it gives a better idea of the underlying color of a diamond. But when purchasing one, you would view it from the top or sides, which does not easily show any color in the depth of the diamond itself. If you are looking to buy a diamond ring or a pair of earrings and prefer a 'premium-looking' range of diamonds, then the G color diamond is a good value for money option. Experts suggest that if you are someone who is looking for a white sparkling diamond without the visible distraction of color shade, the nearly colorless lab grown diamond range is a money saver without losing out on the glamour of owning a diamond.
H Color Diamonds
H graded diamonds sit on the border between premium colorless and tinted diamonds, and therefore offer great value without any visible yellow or brown tint unless compared side by side with a whiter diamond. This near colorless range of diamonds represents the top 15% of all gem-quality diamonds. They are the most popularly accepted and utilized due to its price range and brilliance radiance it provides, despite some colored hue.  On the diamond grading scale, the H color diamond does have a more profound play of color but it becomes less discernible once the diamond is set into an engagement ring or earrings or any fine jewelry. But if you are not keen to spend a lot of money and yet want the pride of a good looking lab grown diamond, opt for an H color diamond with Brilliant cut. Even though the differences in color between a G and H color diamond is insignificant, the price difference may be up to 15%.
I Color Diamonds
Just like H and J color diamonds, if you pick the right diamond shape, cut quality and setting you can walk away with a great deal on an I color diamond. Independent diamond certification labs such as the International Gemological Institute (IGI), have noted that this class of diamond provides the looks of a nearly white diamond, without the obvious distractions of color to the naked eye. The trick is to ensure they are crafted by experienced jewelers to get the best sheen and fire to come on display, despite the evident color flaw hidden in their depths. 
When choosing I color diamonds, customers have more flexibility in their budget to play up their ring's design, upgrade to a metal of their choice, or choose a better cut diamond all of which will directly lend to complementing the diamond's color. Be assured that without intense magnification, the color hues won't be very perceptible, especially when it has been set in a ring or any jewelry. 
We do not think anyone should stress over one color grade because it won't make much difference, if you build your ring step by step, evaluating the 4Cs carefully. Even then, if you are on the fence, unable to choose between an H or I color diamond, we strongly recommend selecting the right shape and cut because that can make an I color diamond look every bit as stunning as a color grade higher diamond.
J Color Diamonds
J colored diamonds are very slightly tinted diamonds, however, once set in jewelry, especially in yellow or rose gold, it is harder to see the slight yellow tint which the J grade produces. The J color diamond is the last in the series of the nearly colorless category of lab grown diamonds but they look nice and bright in round brilliant cut diamonds and even some other well-cut brilliant diamond shapes like ovals, cushions, and princess cuts in sizes up to about one-carat. The J color diamond looks truly ravishing in bigger carat sizes and unless seen as loose diamonds side by side with higher grade diamonds, it is still difficult to see the yellow hues. Do keep in mind that color does NOT affect the sparkle of a diamond. Rather it is the Cut that determines how brilliant the diamond appears. It's wise to invest in an excellent diamond cut that will give your diamond brilliance and scintillation than to buy a diamond that isn't well cut but has a better color grade. 
Also, a J color allows you to save almost 40-45% over a D color diamond and use this to upgrade the rest of the 3Cs. That's a great trade-off!
K Color Diamonds 
Diamonds in the K-L-M color range fall within the "faint yellow" classification accorded by gemologists, but face-up they will appear white with barely a hint of color. It is important to remember that your diamond will absorb light from your living environment and reflect the spectral colors. In diamond grading labs, experts sit with all their equipment and lighting to grade diamonds
K color diamonds will have some yellow tint (nothing too dark, but it's there). This color is considered a surprise beauty by many jewelry designers and is recommended to those who want a heavier carat ring and for their engagement rings. However, this is a personal choice to make. K color diamonds can look absolutely stunning in a large carat setting that is matched with a smart cut and an engagement ring setting that complements the center stone.
K color diamonds definitely enhance the brilliance and beauty of the gemstone when set in yellow or rose gold. This is because a strong colored metal setting takes away the color distraction from the diamond itself. The tint becomes so negligible that it is almost impossible to notice it. If you take into consideration the cost factor, a K color graded diamond with a 1.5 carat weight of a LovBe lab grown diamond is going to cost half the price of a D color diamond of less carat weight. A round brilliant diamond is cut in a way to give maximum brilliance. This works well for a K color grade diamond to hide its negligible yellow tints.